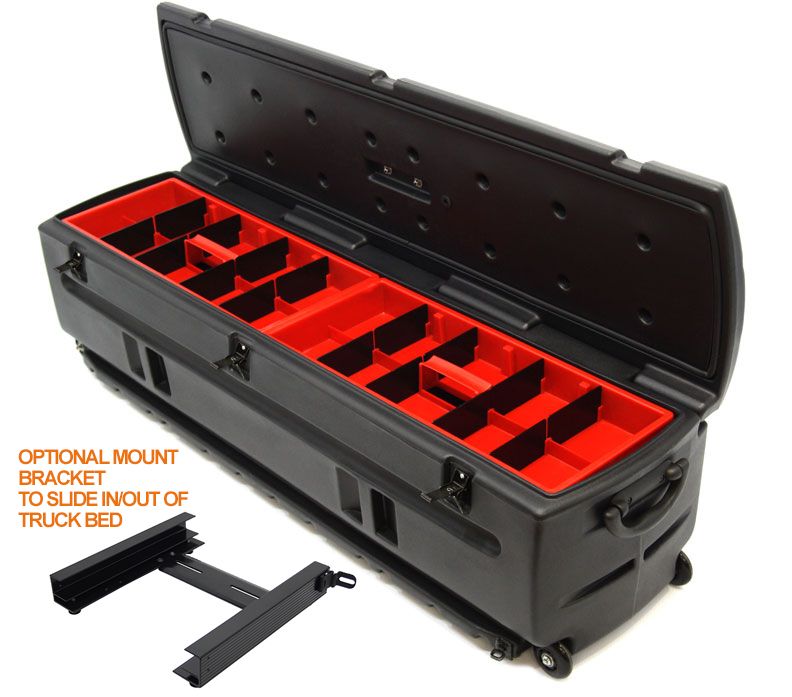 Only $292.95/ Optional Mount Bracket $53.95
The DU-HA Tote can be pulled on 2 wheels with the end handle (like a roller suitcase), or it can be pulled on 4 wheels with included pull strap. Provides portable storage for your vehicle, house, or garage.
Outside dimensions: L 53" x W 15" x H 15"
Inside dimensions: L 51" x W 14" x H 10"
Weight capacity: 75 lbs
Storage space: 5.08 cu/ft
Volume (GAL): 38
Total weight: 35 lbs
Features
• Lockable lid has three latches to help provide added security for your belongings
• Latches can be locked using standard padlocks
• Sealed lid helps keep out moisture and dust
• Stores your valuables safely out of sight
• Includes organizers/dividers/gun rack
• Constructed from heavy duty polyethylene
• Includes two red utility trays with dividers to help keep your smaller items organized
• DU-HA® storage units are made in the USA
• Fits most SUV's, pickup trucks, vans, and trailers
More
Interior/Exterior Portable Storage / Tool Box / Gun Case for SUV's, Pickups, Vans, and Trailers The DU-HA Tote is designed to hold your gear, tools, rifles, shotguns, ammo, and other items in the rear cargo area of most vehicles and trailers. The DU-HA Tote acts as a legal gun case in most states, has a sealed, lockable lid, and holds 4 shotguns or rifles, with or without scopes securely in an upright position.
The DU-HA includes a 2 piece gun rack/organizer, so you can safely store your guns in their upright position. The DU-HA acts as a legal gun case in most states and carries 2-4 guns depending on the configuration for your truck.
Warranty:Lifetime Lmited
DU-HA TOTE - Tool Box, Portable With Wheels