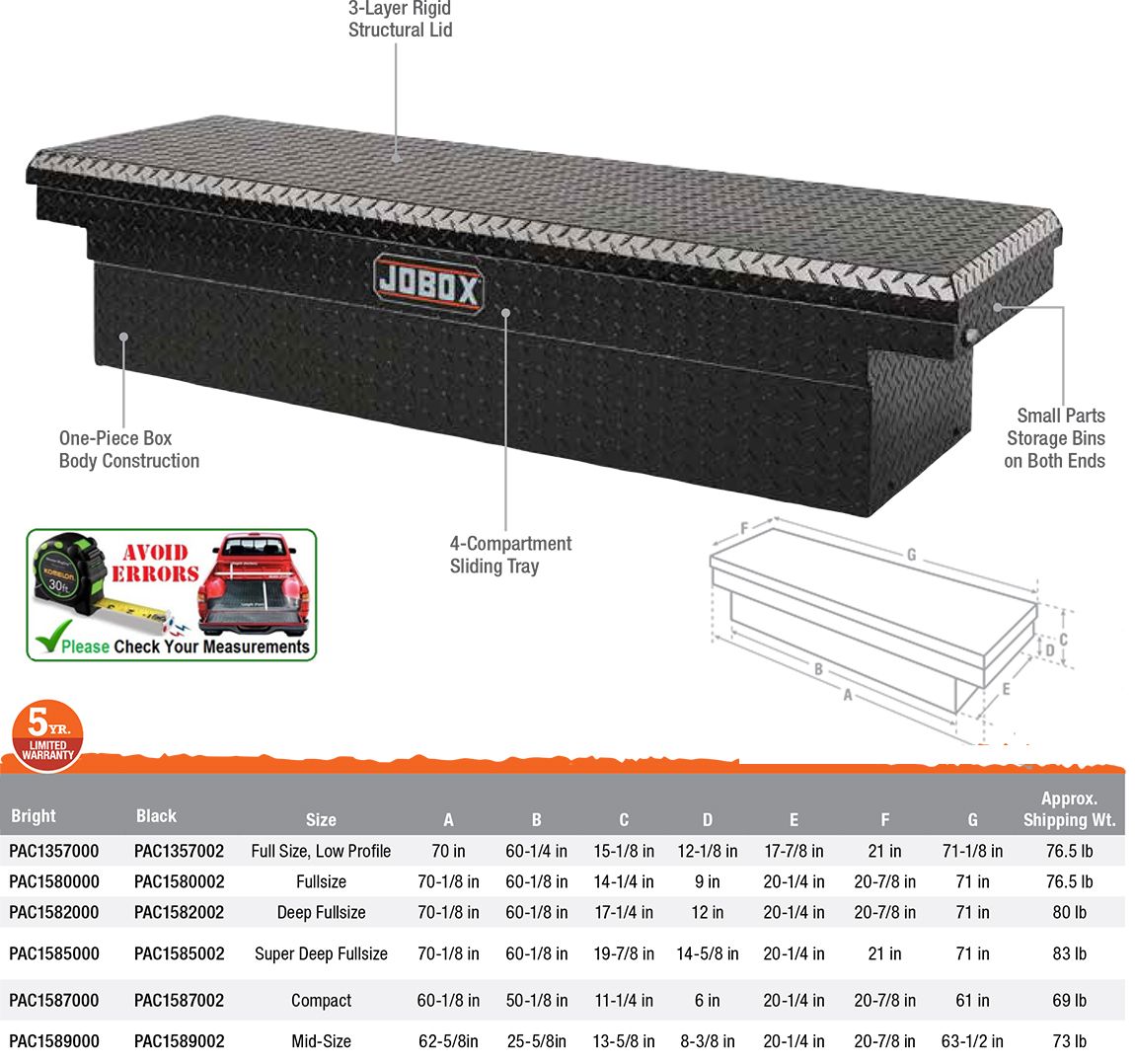 From $425.99
JOBOX (formerly known as DELTA-PRO) is a Heavy-Duty Contractor Grade Tool Box For On-The-Job Daily Use!
Features
• JOBOX Truck Tool Boxes feature the Gear-Lock self-adjusting dual rotary locking system which always latches and closes for superior security
• Self-aligning latch pin pivots from side-to-side to engage with the Gear-Lock System; no adjustments required
• 3-Layer Laminated RSL Rigid Structural Lid has a reverse beveled edge liner and an inner layer of rigid foam insulation to create the most rigid, strongest aluminum lid we've tested
• Reinforced high-strength body and full-wide lock console resists cargo damage and protects the lock system
• End-mounted push buttons provide easy access; lid locks and unlocks from either side for security and safety
• Heavy-duty guards protect the vertical-action gas spring lid lifts and help ensure long-term durability
• Built-in storage bin on both ends and 4-compartment sliding tray for convenient hand tool and small item storage
More
Jobox Aluminum Crossover tool boxes provide superior security for tools and equipment. The combination of our Gear-Lock Dual Rotary Locking System, RSL Rigid Structural Lid, and our high-strength body will resist over 1,000 pounds of prying for to break in. Delta Truck Tool Boxes evolved nearly 45 years ago and quickly became the recognized leader in truck storage solutions. Today, Delta Truck Boxes continue to be known as the standard for quality and value. You can select from Aluminum or Steel models that meet a wide range of storage requirements.
Warranty: 5 Years
JOBOX Tool Box Crossover Single Lid Aluminum