Home
-
Return to Previous Page
Cargo Glide CG-Series Truck Bed Slide


Price Range: $1399.00 - $9999.00


Shipping: $185 or Free Store Pickup

Description
CargoGlide bed slides provide easy cargo access and a sturdy work surface. Available in 1000lb, 1200lb and 1500lb capacities (see HD series for heavier duty models).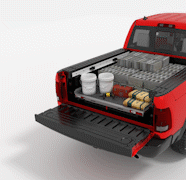 Features
Pre-Assembled for Easier Install
70% Extension (approx)
Rubber Laminated Plywood Deck
Side Thrust Bearings
All Steel Latch Mechanism
12in Lock Increments
6 Roller Bearings
T-Slot Side Rails
Dimensions/ Weight (varies with application)
Length: 30" - 96"
Width: 22" - 48"
Deck Height: 3 3/4"
Side Rails: 4"
Weight: 130 - 175lbs
With CargoGlide from TruckLogic.com, you can stop crawling in the back of your truck or van every time you need to reach your gear. So stop scuffing your knees and hurting your back! Get at your gear and materials out where you need them! Loading and unloading your tools, toys or anything else is faster, safer and easier when you have a CargoGlide. CargoGlide, the best way to get your gear, materials or products from the back of a truck, van, work truck or SUV. Simply slide your gear out of the bed of your truck or van! No more unloading a bunch of stuff just to unload one hard to reach item.
Warranty: Limited Lifetime