Home
-
Return to Previous Page
Ranch Hand Summit Bullnose Front Bumper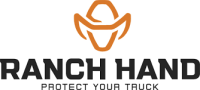 Price Range: $1248.00 - $9999.00


Shipping: Free Shipping or Free Store Pickup.

Description
Bullnose bumpers bring all the attention and authority to front and center enforcing the significant strength of Ranch Hand bumpers.
Features
12 gauge contoured skirt
optional 2" reciever
Retains Factory Fog Lights and Tow Hooks on most applications
"Bullnose Summit Front End Replacement" provides maximum protection for your vehicle. It is designed to take an impact both on and off the road. Field tested in extreme conditions. Most applications retain factory fog lights and tow hooks.The Ranch Hand logo has been recognized since 1986 as the symbol of quality. We have paved the way in the heavy-duty truck accessory market by setting our standards high in design, manufacturing and quality of our products. Ranch Hand offers a full line of quality truck accessories for full size Ford, Chevy, GMC and Dodge pickups and sport utility vehicles from half ton and up, including grille guards, front bumper replacements, back bumpers, headache racks, winch attachment systems, tool boxes, and steps. In addition, the Toyota Tundra, Sequoia, and Tacoma grille guards are now available as well as the Jeep Bullnose and back bumper. Each Ranch Hand product will come with the necessary mounting hardware and detailed mounting instructions.
At Ranch Hand, we know the importance of a quality product. Combine our craftsmanship, quality material, and durable powder coated finish, and you have the best-manufactured product available today. Customer satisfaction and added protection for your truck or SUV are our major goals.
Warranty: 1 Year