Home
-
Return to Previous Page
BedNet Cargo Nets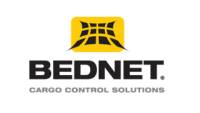 Price Range: $119.00 - $119.00


Free Shipping or Free Store Pickup

Description
BedNet is a quick and heavy-duty way to secure your cargo.
Features
3 Sizes: Small (Compact Trucks 53"L x 48"W), Medium (Full Size Short Bed Trucks 58"L x 58"W) & Large (Full Size Long Bed Trucks 78"L x 59"W)
The BedNet is made of tough polyester seat belt webbing
Installs in seconds—no drilling required
Hooks & Buckles will not scratch vehicle
Carrying Case Included
Backed by a Lifetime Warranty
The ground-breaking design of The Bednet Cargo Restraint System allows your crew to quickly and safely secure most loads. Quick and easy to install, The Bednet is designed to encourage all drivers to use it – even drivers who avoid using other restraint systems. The straps are integrated into the product design so they cannot be lost or detached from the unit. The coated hooks and super-tough nylon buckles will not scratch the vehicle. Bednet is made of toughest polyester seat belt webbing. Carry case included.
Warranty: Lifetime