Home
-
Return to Previous Page
DECKED Truck Bed Tool Box


Description
DECKED Truck Bed Tool Box is an innovative, weatherproof and ergonomic solution for pickup truck owners. Available WITH or WITHOUT LADDER (Ladder can be purchased separately).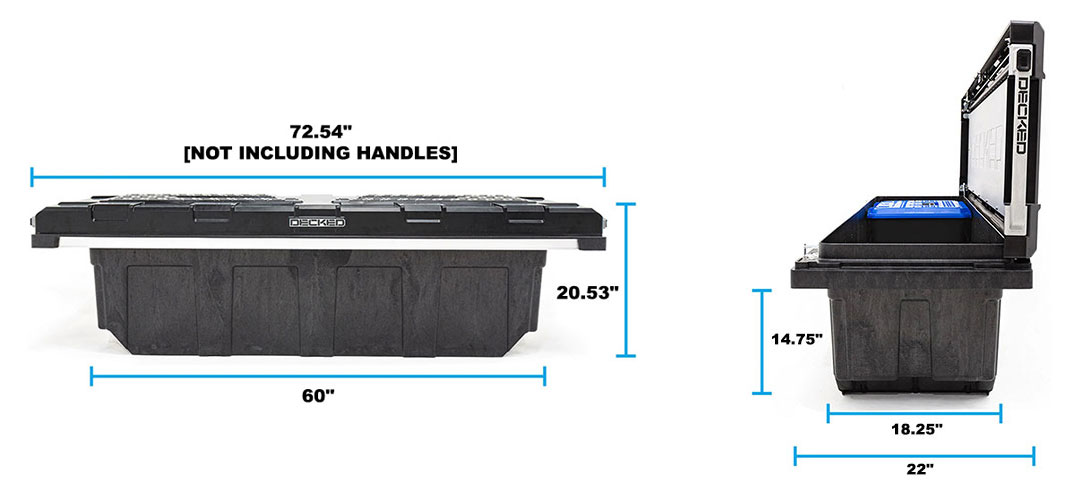 Features
Torsion Springs for effortless lid opening and closing.
Waterproof. Seamless, watertight construction. EPDM lid gasket.
Lock And Key. Steel armored locking mechanism combined with driver side lock. Includes two keys.
Blue D-Box included with Tool Box. Hangers inside tub to hold in place.
Snack Tray Included. Tray for small tools & gear.
Can Handle UV Light, Moisture, And Extreme Heat Or Cold.
Storage Capacity: 9.82 FT³, 73.4 Gallons.
500 Pound Dynamic Payload.
OPTIONAL Ladder. Easily telescopes closed. Accommodates a max bed rail height of 60 inches.
The DECKED Tool Box is constructed using injection molded, high-impact resin with galvanized steel and aluminum reinforcement. Robust steel armored locking mechanism combined with driver side lock makes forced entry nearly impossible. Comes with two keys.
It's molded not welded, so you get a seamless lid and tub as well as overbuilt, moisture repelling, watertight architecture. Seals tightly when closed with an EPDM gasket. Anti-corrosion treated steel and aluminum hardware make for long-lasting durability.
*The Decked Tool Box is NOT COMPATIBLE with the Decked drawer system for any short 5'6" or standard 6'6" bed length trucks....But it is compatible with select 8 foot Decked drawer systems.*
Warranty: Lifetime / Warranty activation instructions included with product.